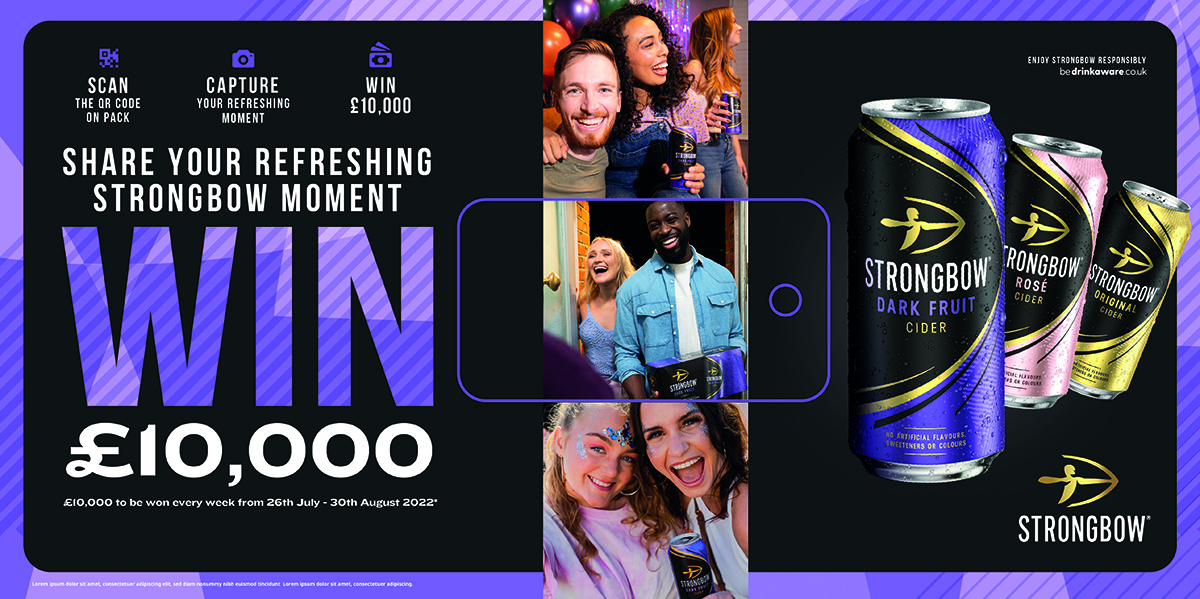 Scan the QR code on-pack or visit uk.strongbow.com/win-retailer and input your first name, last name, mobile phone and email address. Upload a photo of your packaged Refreshing Strongbow Moment. No purchase is necessary. If successful, the winner will be contacted by mobile phone on the number provided.

Take a photo which captures your Refreshing Strongbow Moment. This must include a pre-packaged STRONGBOW product for the off trade to be classed as a valid entry. Entries must not contain any content that is indecent or inappropriate, false, misrepresenting, defamatory or malicious, offensive, obscene, pornographic sexual, derogatory, defamatory, violent, abusive, harassing, threatening, objectionable with respect to race, religion, origin or gender, which could reflect negatively upon the name, reputation or goodwill of the Promoter or STRONGBOW, or which is otherwise unsuitable for publication.

There are 6 x £10,000 cash prizes in total to be won weekly from 26/07 to 30/08/2022, payable by bank transfer.

After you have submitted your Refreshing Moment photograph, you will be entered into a prize draw. Details of the prize draw dates can be found here: uk.strongbow.com/terms-of-use. Winners will be contacted within 5 working days of the prize draw closing date.

There is a maximum of 1 entry per person per week per draw.

If you opt-in for your photograph to be used in future Strongbow Marketing, you will be contacted by Heineken UK and sent a consent form to fill in for yourself and whoever else is featured in the photograph.