ABOUT US
History of Strongbow Cider
The history of STRONGBOW Cider might not be a long one, but it's certainly impressive. Named after the nickname given to one of England's greatest knights, Richard De Clare, 'STRONGBOW' was launched in the UK in 1960 by H.P. Bulmer. The dry cider quickly grew to become one of the most popular in the country. Yet STRONGBOW has remained true to its English roots – the cider is still brewed in the UK using fresh cider apples from Herefordshire. We know you'll already be familiar with our brand – after all, the first pint of STRONGBOW Original was served over 50 years ago. However, there's still plenty to learn. You can find out more about the history of STRONGBOW, our brewing process and the ciders below. 
Strongbow Fact File
90% of all our cider apples are grown within 40 miles of our cider mill in Herefordshire.
125 years+ of cider expertise go into making Strongbow Cider.
To make STRONGBOW we press a range of bittersweet cider apples. Our apple varieties are blended with care, expertise and attention to create the perfect pint to cut through your thirst.
The 1 billion bittersweet apples in STRONGBOW Cider are grown, harvested, pressed and bottled in and around Herefordshire.
Our cider makers live, breath and dream apples. Some have 20+ years of experience in the field but all share a passion for making great cider to be proud of.
We grow British cider apples in around 2,000 acres of our own orchards.
We know our farmers by name and have worked with some for up to 4 generations, going back to the 1920s.
The average harvest is around 125,000 tonnes of apples which equals around 2 billion apples.
Looking for some more specific information about STRONGBOW Ciders?
Take a look at our FAQs.
The Strongbow Range has everyone covered
Whatever the occasion, STRONGBOW can offer the cider to deliver cut-through refreshment. All our ciders are made with natural flavourings.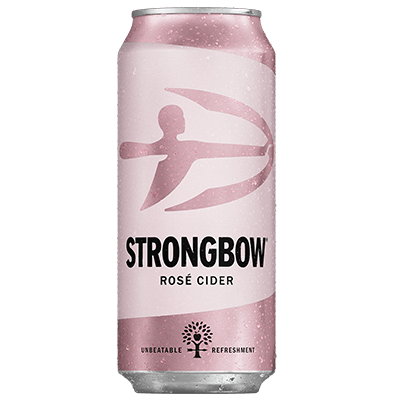 Strongbow
Rosé
A fresh and lightly sparkling rosé cider made with blush-red apples, STRONGBOW ROSÉ is a light and refreshing cider that's best enjoyed cold.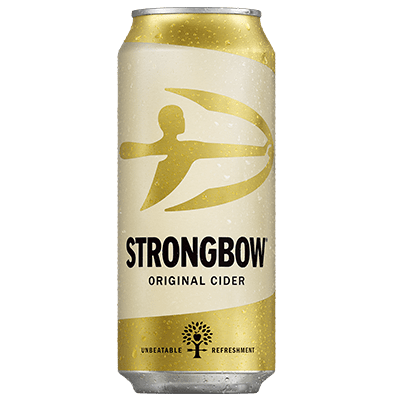 Strongbow
Original
It's the blend of the bittersweet cider apples, grown and pressed in Herefordshire, that gives STRONGBOW Original its unique thirst quenching taste.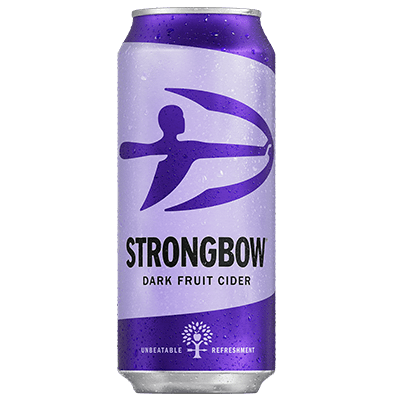 Strongbow
Dark Fruit
Crisp apple cider combined with a refreshing blend of Dark Fruit, delivering STRONGBOW's signature cut-through refreshment.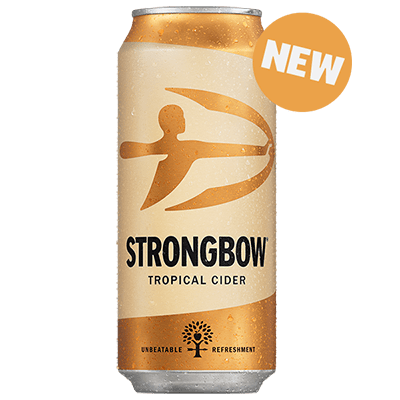 Strongbow
Tropical Fruit
Introducing NEW Strongbow Tropical to the Strongbow family. Say hello to notes of Mangos and Pineapples amidst subtle hints of citrus and passionfruit.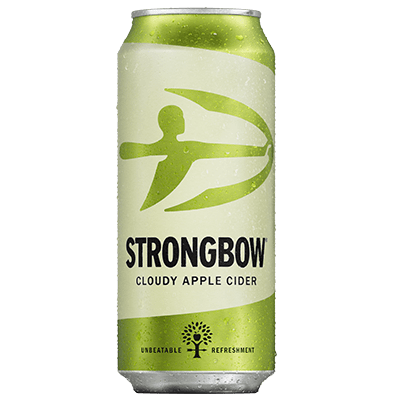 Strongbow
Cloudy Apple
Crafted in Herefordshire with our unique blend of British bittersweet cider apples STRONGBOW Cloudy Apple is our fresh new take on traditional cloudy cider.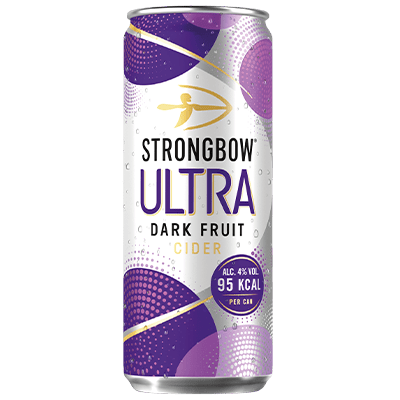 Strongbow
Ultra Dark Fruit
STRONGBOW ULTRA DARK FRUIT is a refreshingly lighter cider – a new twist on the classic Dark Fruit with 95 calories per slimline can and natural berry flavourings.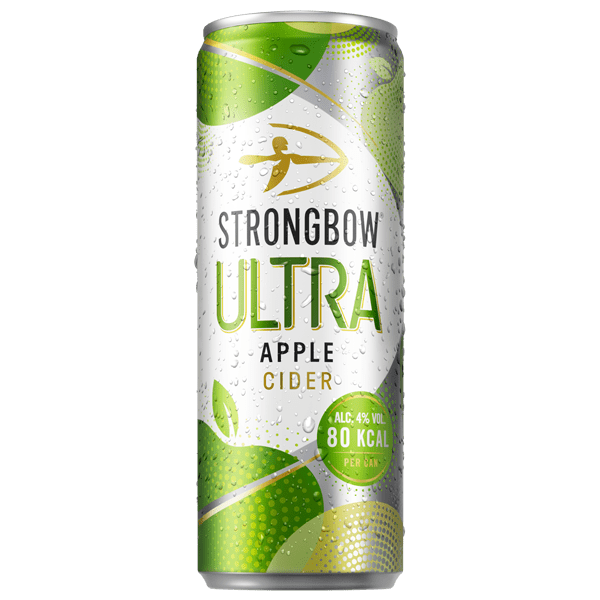 Strongbow
Ultra Apple
New Strongbow Ultra Apple is lower calorie cider with no compromise on taste, all served up in a sleek slimline can.
Buy strongbow at these retailers